USS Banner APA-60 Display
The USS Banner arrived in Lingayen Gulf 9 January 1945 and on the next day she successfully unloaded her cargo. On 11 January she departed for Leyte, Philippine Islands, arriving 14 January 1945. Arriving at Seeadler Harbor, Manus Island, Admiralty Islands, 24 January, she departed the following day for Maffin Bay, New Guinea where she hurriedly took on troops and cargo and departed for Humboldt Bay, New Guinea, arriving 29 January.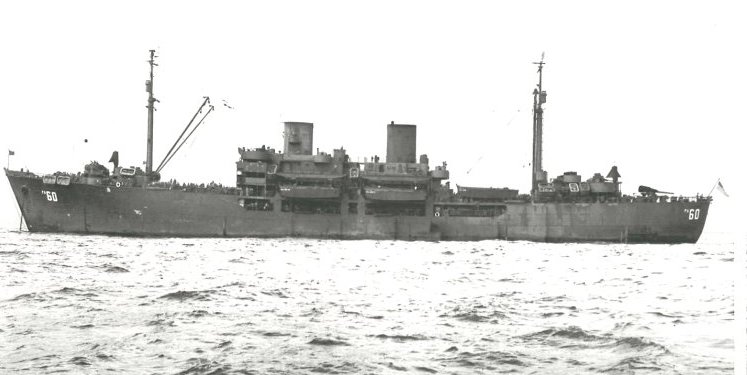 She departed for Leyte 14 February 1945, arriving 20 February. She then debarked her passengers; loaded to capacity with cargo and troops; and got underway 27 March for the invasion of Okinawa, where she unloaded her troops and cargo between 1 and 5 April.
On 5 April she departed for the west coast, via Guam and Pearl Harbor, arriving at San Francisco 11 May. Loaded with troops and cargo she departed 19 May and anchored at Leyte 10 June. She departed Leyte 19 June and sailed via Oro Bay and Humboldt Bay, New Guinea to the west coast, arriving at San Francisco 3 August.
After hostilities She departed 27 August for Okinawa, via Eniwetok, arriving 19 September. After loading 976 troops for transportation to the United States, she departed 27 September 1945. Banner continued on transport duty until February 1946 when she was assigned as a target vessel for Operation Crossroads, the atomic bomb tests at Bikini Atoll. She underwent preparation for the exercise at San Pedro, California, and Pearl Harbor until 15 May 1946 when she departed for the Marshall Islands.