AH-1S Cobra Attack Helicopter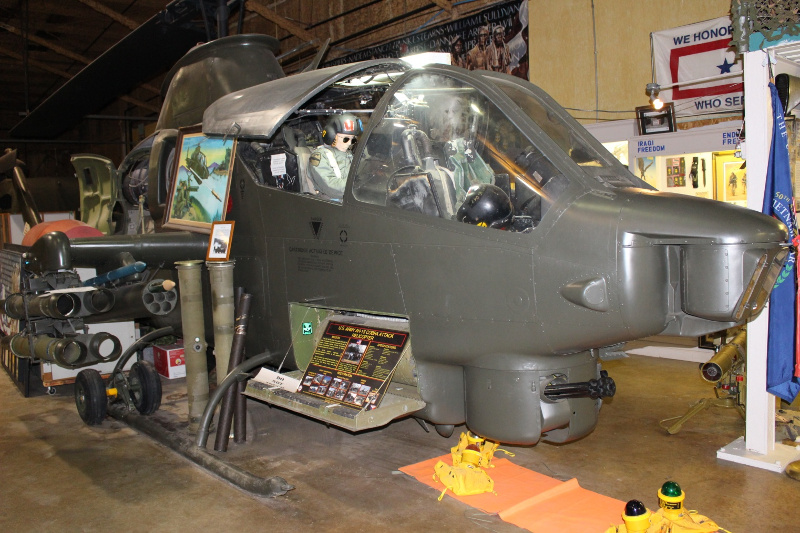 The Bell Ah-1S Cobra was used primarily for close air support of ground troops and also as an attack helicopter against armored formations. Highly maneuverable, heavily armed, the Cobra was well designed for its mission.
The AH-1S program upgrades all AH-1G, AH-1Q, AH-1R Cobras to the advanced modernized version.
The Cobra fleet was retired from the U.S. Army in 2001, but many different variants continue to serve with the U.S. Marine Corps and allied nations worldwide.
Specifications
| | |
| --- | --- |
| Engine | Single Lycoming T53-L-13, 1800 HP |
| Fuselage Length | 53 ft. 1 in. |
| Rotor Diameter | 44 ft. |
| Height | 13 ft. 6.25 in. |
| Weight (Empty) | 6598 lbs. |
| Weight (Loaded) | 10000 lbs. |
| Cruise Speed | 141 mph |
| Max Speed | 172 mph |
| Ceiling | 12200 ft. |
| Armament | XM-28 turret subsystem, 7.62 mm mini-gun with 4000 rounds, SM-129 40 mm grenade launcher with 300 rounds |
| Armament | Stub-wing pylons capable of carrying rocket pods, mini-gun or TOW air to surface rockets |