Bell UH-1 "Huey" Helicopter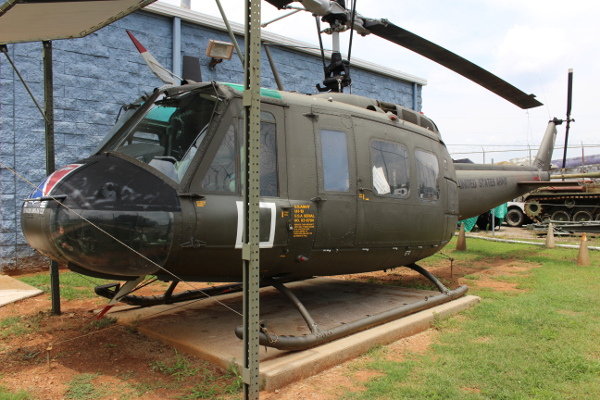 This helicopter (63-3794) was flown by Warrant Officer Robert Mason, (author of "Chickenhawk"), and has been restored bearing the markings of the helicopter at that time.
UH-1 Iroquois, commonly known as the "Huey", is a multipurpose military helicopter and is famous for its use in the Vietnam War. Development from the Bell Model 204, with initial designation of HU-1 (helicopter-utility), led to its nickname. It was first used by the military in 1959 and went into tri-service production in 1952 as the UH-1. The last ever produced was in 1986. More than 10,000 were made, of which the majority (apx. 7,000) were used in Vietnam.
Specifications
| | |
| --- | --- |
| Engine | |
| Fuselage Length | 41 ft. 1 in. |
| Overall Length | 57 ft. 10 in. |
| Rotor Diameter | 48 ft. |
| Height | 14 ft. 6 in. |
| Weight (Empty) | 4.7 tons |
| Payload | 2.0 tons |
| Max Speed | 127 mph |
| Ceiling | 12600 ft. |
| Crew | pilot, co-pilot, flight engineer (and 1st gunner), 2nd gunner |
| Passengers | 11-14 |