Bell OH-58 Kiowa Helicopter
The Bell OH-58 Kiowa is a family of single-engine, single-rotor, military helicopters used for observation, utility, and direct fire support. Bell Helicopter manufactured the OH-58 for the United States Army based on its Model 206A JetRanger helicopter. The OH-58 has been in continuous use by the U.S. Army since 1969.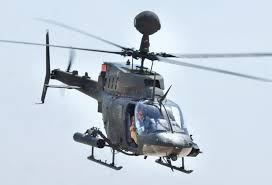 The latest model, the OH-58D Kiowa Warrior, is primarily operated in an armed reconnaissance role in support of ground troops. The OH-58 has been exported to Austria, Canada, the Dominican Republic, Taiwan, and Saudi Arabia. It has also been produced under license in Australia.