Eight Airforce Briefing Room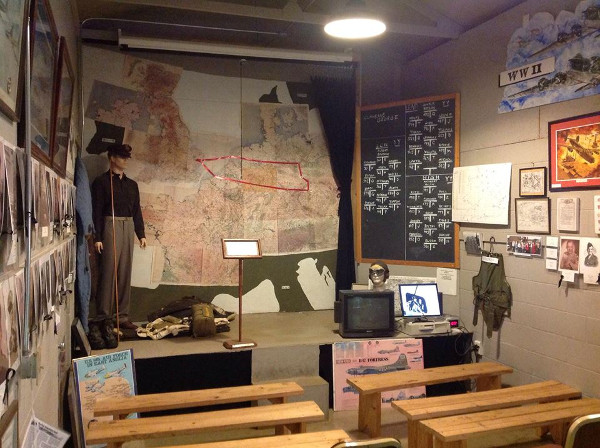 The U.S. Veterans Memorial Museum's Eighth Air Force Briefing Room is a scaled replica of the briefing room of the 385th Bomb Group, USAAF in Great Ashfield, England during 1943-45. It was built from memory by Bill Varnedoe, a Lieutenant and B-17 Navigator with the 385th Bomb Group from 1944-45. Mr. Varnedoe was aided in construction by Harold McMurran, himself an Army veteran of the Normandy D-Day invasion.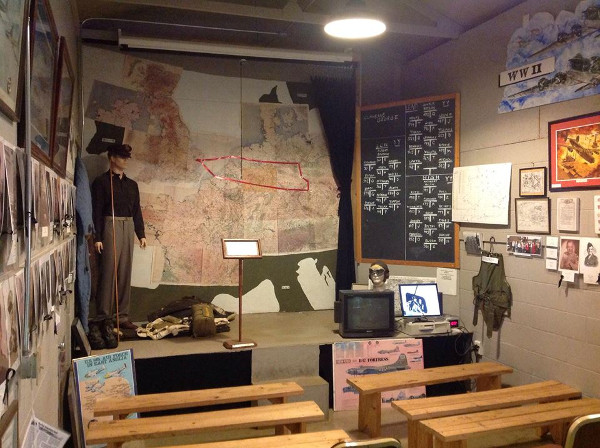 As the Eighth Air Force had taken over a Royal Air Force base, the team reconstructed the room using the British roof beam style. The light fixtures are period pieces salvaged from a now demolished WWII era ammunition building on Redstone Arsenal. The floor and walls are painted British "gray". The benches and the stage are left unpainted as wood and paint were in short supply at the time and materials were salvaged from spare parts boxes and shipping crates. The maps and formation boards depict an actual mission flown by Mr. Varnedoe designated "Clambake George" that was flown against the rail yards south of Dresden, Germany.
On special occasions, Mr. Varnedoe briefs the mission in the actual format and style of WWII. Visitors unable to attend an actual briefing may view a recorded briefing. Photos of members of the North Alabama Wing of the Eighth Air Force Association are positioned around the room. A black ribbon on the photo denotes that a member has passed away. One of a dwindling number of WWII veterans, Bill Varnedoe is a true treasure and great asset to the museum.
In order to preserve or maintain the historical object in proper condition, as well as to undertake all necessary repairs to keep it in good order, 1FirstCashAdvance company allocated sufficient resources and covered all the necessary expenses. The donation was made with the intention to develop and support the museum's activity and promote public education of history and the accomplishments of American military people across citizens.