Lt. Col. Lawrence E. Sisterman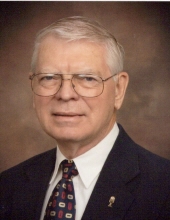 Born in Ellsworth, MN, in 1937, Larry was the youngest of four children of Edward and Grace Sisterman. He graduated from St. John's University in Collegeville, MN, in 1959, was commissioned as a Second Lieutenant in the Army, and soon married Laura, his college sweetheart and wife of 59 years. Larry served his country in the Army for 20 years, including tours in Vietnam, Germany and Thailand. His military career focused on ordnance with a specialty in missiles and munitions. After a series of moves with the Army, he settled his family in Huntsville in 1973, continuing active duty tours at Redstone Arsenal and Thailand before retiring as a Lieutenant Colonel in 1979
Larry then embarked on a successful 25-year civilian career supporting Department of Defense contracts, including operating his own company, MTA, Inc., for 11 years. Having previously earned a Masters' degree in Mathematics from Stevens Institute of Technology in New Jersey, he returned to school and earned a Masters' degree in Administrative Science from UAH in 1983.
Very outgoing and friendly, Larry was involved in many service organizations, including the Metropolitan Kiwanis, the Knights of Columbus, the Interfaith Mission Service, and the North Alabama Coalition for the Homeless. A devoutly faith-filled man, Larry was ordained to the diaconate of the Roman Catholic Church in 2005. He committed himself full-time to serving Holy Spirit Catholic Church and his surrounding community for the next 11 years. One of his great joys was faithfully helping the homeless population of Huntsville through the Interfaith Mission Service's First Stop Program. He also enjoyed ministering to the sick in hospitals. Assisting on the altar and providing homilies were a profound joy to him. It is always a delight to hear from parishioners how much they enjoyed the humor and thoughtfulness of his homilies.
Larry and Laura were avid travelers and continued to travel extensively after they retired. They explored England, Germany, Russia, Poland, Thailand, and Israel, revisiting many of the locations where he had been stationed while with the Army as well as exploring new places. His love of military history brought him and his family to many military museums and historic battlefields around the world. Fascinated with airplanes and flying, Larry earned his commercial/instrument pilot's license and was active in the Redstone Arsenal Flying Club, where he spent so much of his free time that Laura offered to serve as office manager there for several years. That license was frequently used to fly his family of six back to visit Minnesota. Deacon Lawrence E. Sisterman, 83, of Huntsville, Alabama, passed away peacefully in his home on January 29, 2021. Larry was the devoted husband to Laura, a loving father and grandfather, an airplane enthusiast, a military history buff, and an advocate for the homeless.