Lt. Col. Robert J. Jaeckel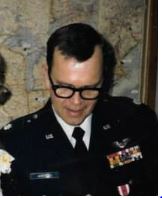 Lt. Col Robert J. Jaeckel never meant to have a career spanning more then 24 years of active duty, that is just how it turned out. He received his degree in finance from St Louis University. He served as an electronic warfare officer on B-52's from 1956-1958, he left the service when his commitment ended. He was recalled to active duty during the Cuban Missile crisis and never looked back. He served as a finance officer to American forces based in Taiwan from 1964-1966, From 1966-1968 he taught R.O.T.C. at the University of Illinois, he served as paymaster for the 355th Tactical fighter wing at Takhli Royal Thai Air Force base from 1968-70, from 1970-73 he served in the finance office at headquarters Pacific Air Force, 1974 he attended the year long Command and Staff college at Maxwell AFB Alabama, from 1975-1977 he was assigned as account supervisor working out of the federal building in Cleveland Ohio, in 1977 he was made Finance Squadron Commander at Castle AFB in Merced California. He Finished his career Chief AC/BS assigned to Strategic Air Command Headquarters Offut AFB in Omaha Nebraska. The Air Force made him a finance officer and he spent the next 24 years keeping the finance department of the Air Force from spending more then it had. He raised a family of 4, 2 sons and 2 daughters. His 2 sons followed their fathers example of service by joining the Armed Forces, one Marine and one Air Force.
Awards:
Bronze Star Medal, Meritorious Service medal, Joint Service Commendation Medal, Air Force Commendation Medal, Air Force Outstanding Unit Award with Valor Device and 2 oak leaf clusters, National Defense Service Medal, Vietnam Service Medal with 4 bronze service stars, Air Force Longevity Service Award with 5 oak Leaf clusters, Air Force Overseas Short Tour Ribbon, Air Force Overseas Long ribbon with 1 oak leaf cluster, Armed Forces Reserve Medal, Small Arms Expert Pistol Ribbon, Republic of Vietnam Cross of Gallantry with Palm Device, Republic of Vietnam Campaign Medal.