1941 Willys MB Slat Grill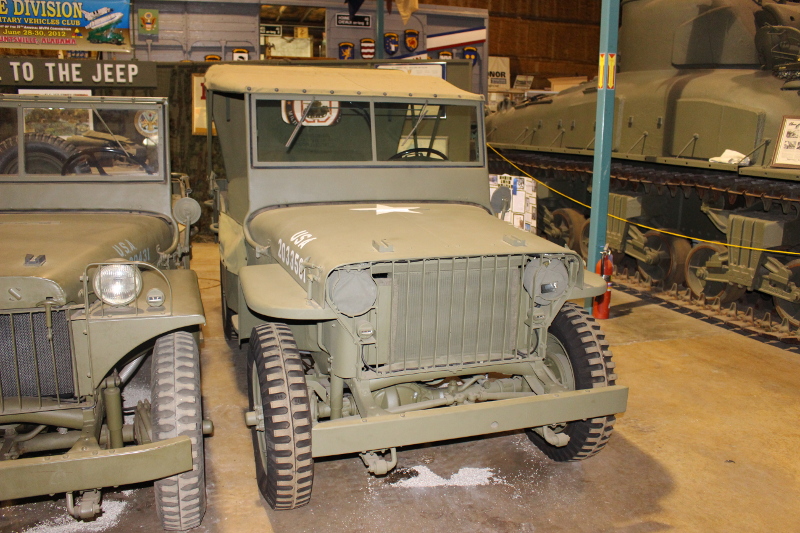 Compared to its competitors, the Willys MA had a more powerful engine, and lower unit cost. These factors were among the reasons Willys was chosen as the company that would produce the 1/4 ton 4x4 truck. The better features of all the pre-production and prototype vehicles were incorporated into the Willys MB. The first 25,000 Willys MB's were equipped with grills fabricated from welded steel stock and are known as "slat grills" among enthusiasts. When Ford Motor Company joined the production effort producing the Willys design as its GPW, its engineers designed a stamped 9 slot steel grill which used less material and was less expensive to produce. This was adopted by Willys for the remainder of production and became the standard grill of the WWII jeep.
The Veterans Memorial Museum's "slat grill" MB is SN 102157 and was delivered to the ARMY Dec 4, 1941. The jeep was purchased many years ago from a long closed wrecking yard in Cleveland, TN. The MB had been used in a strip mine and was in very bad condition, yet had a lot of original parts. Later, the remains of "slat grill" SN 105312 (date of delivery Dec 23, 1941) were located and acquired, again with a lot of good parts.

A long process began with the goal of restoring 2157. Both bodies were in such bad condition that a donor reproduction body was obtained and cut up. Parts of both bodies were put together using repo parts with a replica rear panel obtained from noted New Zealand fabricator, Mr. John Geesink. The project had not progressed in some time and once again, Mr. Ken Hake of Kansas was commissioned to complete the work.