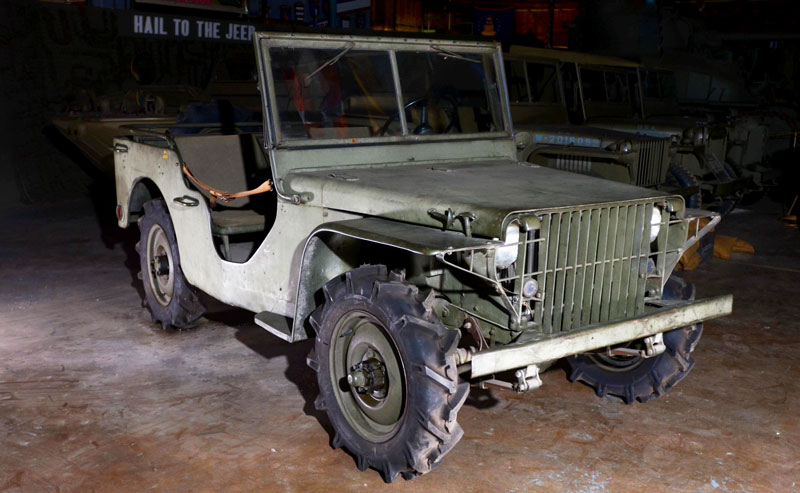 Without question, the crown jewel of The Veterans Memorial Museum's collection is the Ford Pygmy, the oldest known surviving example of the vehicles that became the jeep. Ford was one of three companies competing to fulfill the Army's requirement for a 1/4 ton Reconnaissance Car.
Bantam had delivered its pilot vehicle to the Army first on 23 September, 1940. Willys followed with its Quad on 13 November. On 23 November, Ford delivered two pilot vehicles to Camp Holabird, Maryland for testing: the Pygmy and a second vehicle with a body built by the Budd Corporation. The Budd bodied vehicle more closely resembled the Bantam pilot and was not tested by the Army.
The Pygmy was hand built in the Ford development shop in Dearborn, Michigan using parts from Ford's commercial and agricultural lines. It pioneered such design features as the flat grill with headlamps positioned behind it for protection, an intermediate bow for the canvas top, the fuel tank mounted inside the body under the driver's seat, and a two‐piece opening/folding windshield. The headlamps were also positioned on a hinged bracket which allowed them to be pivoted to illuminate the engine compartment at night.
All of these features were incorporated into the standard WWII jeep, the Willys MB. The pilot vehicles were the property of the manufacturers and after testing was complete, the Army returned them. Though neither the Bantam nor the Willys pilot vehicles are known to have survived, the Pygmy is preserved in virtually original condition as acquired from The Henry Ford Museum in the 1980's. Fortunately, the second Ford pilot was discovered in 1998 derelict in a field in California. It has been restored, and is currently held in a private collection in The United Kingdom. The only known surviving Bantam BRC‐60, serial number 1007, with date of delivery "11 29 40" stamped on its data plate was delivered to the Army six days after the Pygmy arrived at Camp Holabird for testing.
Specifications
| | |
| --- | --- |
| Delivery Date | 23 November, 1940 |
| Engine | 119.5 CID, 4 cyl, side valve 46 bhp @ 3,600 rpm (Fordson Model N tractor engine) |
| Torque | 84 ft·lb @ 1,500 rpm |
| Transmission | 3 speed Ford Model A |
| Transfer Case | Spicer 2‐speed |
| Gear Shift | Floor mounted |
| Axles | Spicer Dana 4.88:1 23‐2 rear, Dana 25 front |
| Wheelbase | 80 inches |
| Weight | 2,150 pounds |
| Length O/A | 134.25 inches |
| Width | 56 inches bed, 60 inches overall |
Supporting Documents: